IAPS Virtual Summer Meeting – Watch On-Demand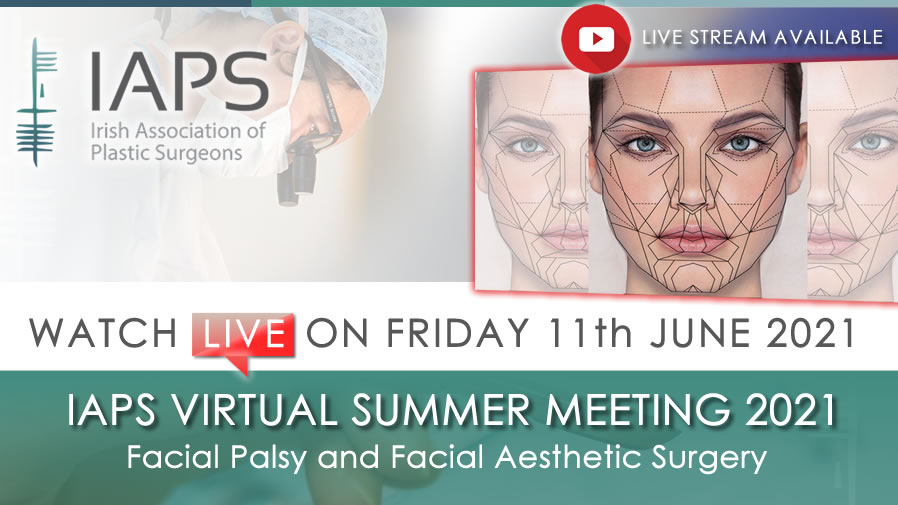 Videos Now Available – IAPS Virtual Summer Meeting
The IAPS Summer Meeting was streamed live on Friday 11th June.    All talks were recorded and are now available to watch again on-demand.   Simply register below and a link will be sent to you right away.

The topic of this year's meeting is Facial Palsy and Facial Aesthetic Surgery
Catch-up and Watch again:

Watch anytime, from anywhere.
Soak in the knowledge & learn from our expert panel of speakers
Watch recorded sessions. You will have access to the video on demand archive for 3 months after the meeting
Register
Tickets are free of charge but attendance is limited to IAPS members, medical professionals and trainees only. Register below and the live stream link and video archive will be emailed to you straight away.
Agenda
DOWNLOAD THE AGENDA AND SPEAKER BIOGRAPHIES (PDF) HERE
Confirmed Speakers include
Addie Grobbelaar (London, UK) – Microneurovascular Reanimation
Omar Ahmed (Newcastle, UK) – Lengthening Temporalis Myoplasty
Brian Kneafsey (Dublin) – Static Procedures in Facial Palsy
Tim Fulcher (Dublin) – The Eye in Facial Palsy
Greg Borschel (Canada) – Management of Paediatric Facial Palsy
Margaret O'Donnell (Dublin) – Certification in Aesthetic Surgery and New Intercollegiate Certification Process
Eoin O'Broin – Rhinoplasty
Fiachra Martin – Nerve Transfers in Facial Paralysis
Nora Nugent – Assessment and Decision Making in Patients Seeking Aesthetic Surgery
Richard Caeser – "Blepharoplasty, Browlift and Peri-orbital Rejuvenation." (Cheltenham, UK) "
Free Papers include
Paper 1: "Mirror Face Lift": Concept, Description, and Evaluation 1 Year Postoperatively
Ebaa Sabri, Dr. Marc Divaris
Paper 2: The Trap Door Flap for Reconstruction of Auricular Defects: Largest Case Series from a Single Institution
Daniah ALNafisee, Maire-Caitlin Casey, Rachel Enright, Niall McInerney, PJ Regan
Paper 3: Are Plastic Surgery Trainees Accurate Assessors of their own Microsurgical Skill?
Anna Kinsella, S Carr, B Reid McDermott, D Byrne, S Potter, A Hussey
Paper 4: A disparity between the number of lymph node dissections performed in the current era and plastic surgical training requirements in the Republic of Ireland
Jordan Wilkinson, Suzanne M Beecher, Gerard Kelly, Maire Caitlin Casey, Quentin Jeantet, Jordan E Wilkinson, Jack FC Woods, Kevin C Cahill.
Paper 5: Predicting Elderly Burns one-year survival rate in Ireland – the incorporation of the Frailty score and future direction
Josh Skeens, A Rahman, SM Bollard, TC Chen, T Cronin, JFC Woods, OP Shelley
Paper 6: The Role of Steroid Injections in Carpometacarpal Joint Arthritis
Stephanie Marie Bollard, Mary Naughton, Richard P Hanson
Paper 7: Central Slip Extensor Tendon Injuries : To K–Wire or Not to K–Wire?
P.J. O'Donoghue, S.Carr, B O'Ceallaigh, E.Siney, N.McInerney, A.Hussey, P.Regan, D.Jones, JL Kelly
Paper 8: The TORCh Pilot Study: TOxin for Treating Raynaud's Conditions in Hands
Kealan Blake, Dr Conor Cuggy, Dr Ellen Geary, Dr Carl Orr, Prof Sean Carroll, Ms Catriona Lawlor, Mr Colin Morrison, Ms Roisin Dolan
Paper 9: Pilot study: Examining the feasibility, of our proposed study, where we aim to determine the true incidence of amelanotic melanoma in an Irish population.
Dr Darren Mc Cormack, Dr Natasha Christodoulides, Dr David Buckley, Mr Jamie Martin- Smith
Paper 10: Impact of British Association of Dermatologists guidelines cutaneous squamous cell carcinoma (cSCC) 2020 on the risk stratification and surgical management of cSCC.
Dr Aisling Ryan, Dr Angela Canas-Martinez, Mr Fiachra Martin
Paper 11: High Frequency Electroporation and Chemotherapy for the treatment of Cutaneous Malignancies; Evaluation of Early Clinical Utility and Response
Phoebe Lyons, A James P Clover, D Polini, A Bracken, P Forde
Paper 12: Effect Of A See And Treat Clinic On Skin Cancer Treatment Time
Katie Nolan, Kelsey O Donnell, Stephanie M Bollard, Cathy M Kelly, Fergal J Moloney, Shirley Potter
Paper 13: Flap reconstruction of perineal defects post-abdominoperineal resection
Aoife Gaffney, Prof Paul McCormick
Paper 14: Postoperative Outcomes in Head and Neck Oncology Patients aged over 65 undergoing Free and Pedicled Flap Reconstruction
Rachel Enright, E. Lait, E. Devoy Flood, N. Shine, J.P. O'Neill, B. O'Sullivan, F. Martin
Paper 15: Perineal Reconstruction Following Oncological Extended Rectal Surgery: The Role of the Inferior Gluteal Artery Myocutaneous Flap
Jessica O'Reilly, Stephanie Bollard, Ann Brannigan, Jurgen Mulsow, Christine Quinlan, Shirley Potter
Paper 16: Investigation of the usefulness of the POSSUM score as a predictor of morbidity and mortality in microvascular head and neck reconstruction following oncological resection.
Sharon Kennedy, Gary Fenn, Barry J. O'Sullivan, Fiachra Martin
Poster Presentations Include
An Investigation of the relationship between the 2D:4D Ratio and Sagittal Craniosynostosis
Finola O'Sullivan, SM Bollard, GP O'Sullivan, P Coffey, S Bracken, DJ Murray
National Paediatric Craniofacial Centre, Children's Health Ireland at Temple Street, Dublin 1
A year of Microbiology in a National Burns Unit during the COVID-19 Pandemic
Donal Murphy, Paula Wrafter, Jane Cassidy, Odhran Shelley
National Burns Unit St James Hospital
Public Perception on Elective Surgical Funding
Nauar Knightly, Ciaran Hurley, Jack Kelly
University Hospital Galway
Novel Steroid Infiltration Technique of the Carpal Tunnel
Nauar Knightly, Laura Finnegan, Tayyab Qayyum, Jack Kelly
University Hospital Galway
The role of simulation in Microsurgical training: A review of validated assessment tools
Robert Milling, Shirley Potter, Christine Quinlan
Department of Plastic & Reconstructive Surgery, Mater Misericordiae University Hospital
Role of synthetic dermal matrix for reconstruction of complex 'un-graftable' wound defects
Elizabeth Concannon, Lindsay Damkat Thomas, Nicholas Solanki, Marcus Wagstaff, John Greenwood
Royal Adelaide Hospital
Biodegradable temporising matrix (BTM) for the reconstruction of defects following debridement for necrotising fasciitis and full thickness burns: a case series
Ailbhe Coyle, Safwat Ibrahim, Barry O'Sullivan
Department of Plastic and reconstructive surgery, Beaumont Hospital, Dublin 8, Ireland
Improving Medical Student Engagement with Plastic Surgery: The Benefit of a Structured Curriculum
Stephanie Marie Bollard, Mary Ellen McMahon, Laoise Coady, Christine S Quinlan, Shirley M Potter
1. Department of Plastic & Reconstructive Surgery, Mater Misericordiae University Hospital
2. School of Medicine, University College Dublin
The Management of Melanoma during the COVID-19 Pandemic: A Single Institutional Experience
Ciaran Hurley, A. Dhannoon, L. Wrafter, N. Knightly, T. Balakrishnan, N. McInerney, A. Hussey, D. Jones, JL Kelly, PJ Regan
Department of Plastic and Reconstructive Surgery, University Hospital Galway, Newcastle Rd, Co. Galway
Current breast implant selection preference amongst Irish breast and plastic surgeons in relation to breast implant associated anaplastic large cell lymphoma
Ailbhe Coyle, Shane Carr, Jamie Martin-Smith, Brian Kneafsey
Department Plastic & Reconstructive surgery, Beaumont Hospital, Dublin 8, Ireland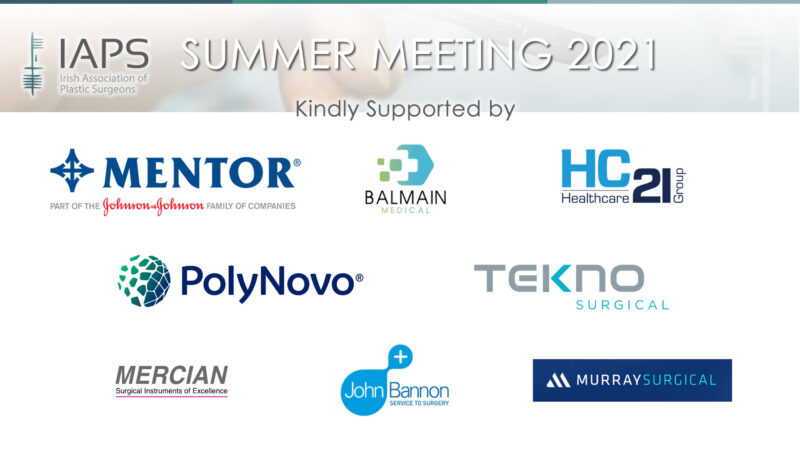 ---
Register
Tickets are free of charge but attendance is limited to IAPS members, medical professionals and trainees only. Register below and the live stream link and video archive will be emailed to you right away.
---